September - Autumn / Fall can be an excellent time here in the Central Florida - Orlando / Kissimmee area. It signals the end of summer and the start of the Autumn months (even though the heat continues for a bit longer).
However, this is a great time to visit Florida. As we enter September, this means fewer crowds and shorter lines for parks, rides, and events. Many events and festivals also start during this month, including some of the most popular festivals of the year in Central Florida.

Staying in a vacation home can also mean mixing business with pleasure and possibly working from a vacation home. There are lots to do that many people don't realize or haven't experienced and use one of our luxury vacation homes / holiday villa's as a work base or launchpad to saver everything central Florida has to offer.

Kicking off with lots of Food Experiences and Delights for all ages and tastes
Annually Disney World has the - Epcot has the Epcot International Food & Wine Festival.




This annual festival at Epcot features excellent cuisines, music, and cultural events from around the world, and this year, it is better than ever with all-new events, chefs and fun things to do.

Take a Taste Tour Across 6 Continents and More—July 14 to November 19, 2022.

EPCOT International Food & Wine Festival presented by CORKCICLE® – Global Marketplaces | Walt Disney World Resort (go.com)

Orlando's Magical Dining 2022:

At the same time, not to be undone and to join in with the delights that Disney has to offer the surrounding Orlando, the Kissimmee area has the Magical Dining Experience:
Visit Orlando's Magical Dining is back from Aug. 26 – Oct. 2, 2022, featuring $40 prix-fixe menus at more than 100 of Orlando's best restaurants — plus hotel savings via Visit Orlando's Magical Nights (Chef Richard Blais of the MICHELIN Guide Recommended Four Flamingos at Hyatt Regency Grand Cypress).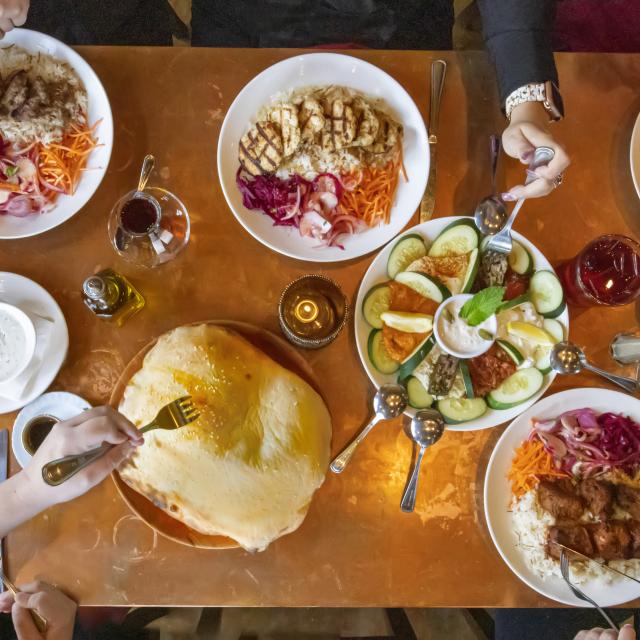 The chefs are ready: Are you? Celebrating its 17th year, Visit Orlando's Magical Dining inviting you to savor three-course, prix-fixe dinners at more than 100 top Orlando-area restaurants for just $40 per person.

The lineup includes six MICHELIN Guide honorees, as well as 22 venues participating for the first time — and you won't want to miss a bite. This year also marks the return of Visit Orlando's Magical Nights, featuring special savings from some of our most popular resorts and hotels.
Thanks to these offers, turning your night out into a staycation or overnight getaway is as affordable as it is fun.
The Table Is Set: Visit Orlando's Magical Dining® 2022
Craft Beer Festival at Seaworld
SeaWorld® is serving up an incredible party for craft beer lovers. SeaWorld's Craft Beer Festival features more than 100 crafts brews, wines, seltzers, and cocktails. Sample an unbeatable mix of domestic and local Florida favorites. Plus savor more than 15 food items expertly paired to match your preferred brew. And to top it all off, festive entertainment will keep the party going all day long. This is the one craft beer celebration you won't want to miss. The fun is brewing Fridays, Saturdays, & Sundays, Aug. 5 - Sept. 5, only at SeaWorld.


Craft Beer Festival – On Fridays, Saturdays & Sundays | SeaWorld Orlando

Sunset Walk is next to Formosa Gardens and Formosa Gardens Estates @ Margaritaville Resort Orlando.
One of the most happening places in the Kissimmee / Orlando areas and has events throughout September and October, such as the Labor Day Weekend Celebration and Car and Truck Show for Breast Cancer Awareness Month,
More events are listed on Sunset Walks' site https://www.sunsetwalk.com/events/
As we said, don't miss out on the end of summer and beginning of Fall / Autumn in the Disney World Area - Central Florida, Orlando, Kissimmee and stay in one of our vacation homes or holiday villas.
Some last-minute availability still exists in a few of our luxury vacation homes / Florida holiday villas.
Deal directly with us save on commissions, the husband and wife team that cares; we own and manage our homes and only our homes,
very hands-on and communication is essential. We are genuinely here to help and answer any questions.

Luxury Vacation Homes / Florida Holiday Villas in a Gated Community with Upscale Luxury Executive Vacation Homes / Holiday Villa
- 2 Miles to #DisneyWorld #formosagardensestates Formosa Gardens Estates: Stunning Vacation Home Rentals
next to #DisneyWorld check out https://formosagardensestates.com/ https://aungervacationhomes.com/